Fort Pinta was built during the Viking ages when war raged the land. Today it's one of Jorvik's most popular tourist attractions.

— Star Stable Online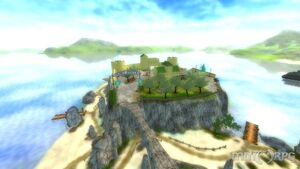 Fort Pinta is a fort located in the southernmost part of Silverglade. The fort was built by Jon Jarl in the 13th century, and was modernized by Governor Gareth in the 16th century.
Appearance
Edit
Fort Pinta is a town for tourists. It includes two stables, one with the chores and one for selling horses. It also has a beach on the left to the bridge behind the championship area and a fort. The fort is accessible by stairs inside a room next to the cafe. The cafe includes a disco which is open during Friday and Saturday evenings. Fort Pinta also has two hair salons, a pet shop, a saddlebag shop, clothing and gear shops.