Fort Pinta was built during the Viking ages when war raged the land. Today it's one of Jorvik's most popular tourist attractions.

— Star Stable Online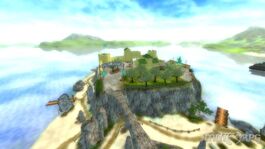 Fort Pinta is a fort located in the southernmost part of Silverglade. The fort was built by Jon Jarl in the 13th century, and was modernized by Governor Gareth in the 17th century. The chief manager of all affairs at the fort is James.
Appearance
Edit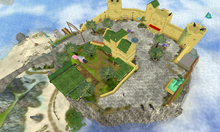 Fort Pinta is a town intended for tourists. It can be reached most easily by a narrow stone bridge, and sits on a stone outcrop that overlooks the ocean. In 2015, the graphics were redone and the locations of several building within the fort were changed. Fort Pinta has a notably Spanish style, with green tiled roofs, cannons, and yellow stone walls. This Spanish influence is also present in the name: Fort Pinta. Players are free to explore the many hidden secrets of the fort, which boasts cannon decks, towers to climb, and walls to ride along the top of. now the fort pinta loading has changed has in quite a small wall in Some walls have white-andfrom above a different fountain and also outside of the fort pinta is made boat to south hoof and jarjaleim
Attractions and Amenities
Edit
The Fort Pinta disco, which is open on both Friday and Saturday nights for dancing.
Two separate hair salons.
A pet shop.
A Notary, which is helpful for changing the name of the player's horse.
The bus stop that allows players to travel to Jorvik City Mall.
A stable that includes several horses for sale and the option to set Fort Pinta as the player's home stable.
The ferry docks, which offer transport to Cape West Fishing Village, Jarlaheim, and South Hoof Peninsula.
The pony barge, where many Jorvik Ponies can be found for sale.
Fort Pinta Beach, which boasts picnic areas, a swimming area complete with diving board, and a championship.
Many small shops where the player can buy saddle bags, clothing, gear, food, and accessories for their horses.
Available Horses
Edit
Available at the stable in Fort Pinta are an American Quarter horse, an Arabian Thoroughbred, a Danish Warmblood, an English Thoroughbred, and a Friesan sport horse. Also available off the coast of Forta Pinta are various Jorvik Ponies.
Ad blocker interference detected!
Wikia is a free-to-use site that makes money from advertising. We have a modified experience for viewers using ad blockers

Wikia is not accessible if you've made further modifications. Remove the custom ad blocker rule(s) and the page will load as expected.