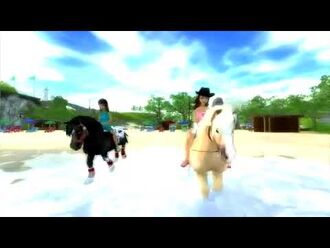 The Jorvik Pony
is a horse breed native to
Jorvik
. The ponies come in every color and are much smaller than any other horse in Jorvik.
Description
Edit
"The typical Jorvik Pony has a sunny disposition but can be a single-minded, mischievous and stubborn little horse. It has short legs resulting in a lower overall height, and a more prominent head than most horses. Because of their small size and chubby build they have difficulty maintaining the speed of other, wild Jorvik horses. While the Jorvik Pony is not really cut out for performance related competition it remains a favorite breed among Jorvik horse owners who love the fun and laughs that come from spending time with this charming little horse. Jorvik ponies come in many different colors." - Star Stable Online
Star Stable Online
Edit
The Jorvik Pony was released on August 21, 2013 in eight available colors
Two additional colors were released on September 18, 2013
One additional color was released on January 29, 2014
Three additional colors were released on May, 7, 2014
Colors, Location, and Pricing
Edit
There are 14 available ponies in the game all in varying prices and locations.
Bay, Fort Pinta Dock - 350 SC
Bay Rabicano, Ferdinand's Horse Market - 450 SC
Black Spotted Blanket, Fort Pinta Dock - 450 SC
Black Tobiano, Goldenleaf Stables - 450 SC
Blue Roan,

Ferdinand's Horse Market

- 550 SC
Brown Leopard Appaloosa, Goldenleaf Stables - 550 SC
Dapple Dark Brown, Ferdinand's Horse Market - 350 SC
Flaxen Chestnut, Valedale - 450 SC

Flaxen Chestnut Pangaré , 

Fort Pinta

 Dock - 550 SC

Light Grey, Fort Pinta Dock - 450 SC
Palomino, Fort Pinta Dock - 550 SC
Palomino Pinto, Ferdinand's Horse Market - 450 SC

Red Roan, Ferdinand's Horse Market - 550 SC

Silver Dapple, 

Fort Pinta

 Dock - 450 SC
The Jorvik Pony was the first horse breed to have it's own race and championship not accessible by players riding other non-pony breeds, the second being the Icelandic Horse.
The Jorvik Pony is the breed with the most color variations in the game behind the Jorvik Warmblood