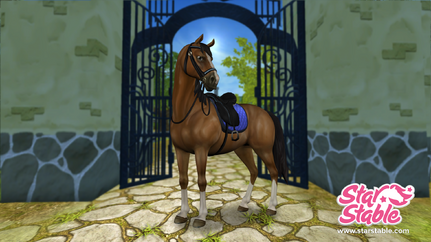 The Jorvik Warmblood is a horse breed only found in Jorvik. The player's first horse in Star Stable Online is a Jorvik Warmblood. It's not possible to get any other Jorvik Warmblood but the very first horse the player begins the game with.
When Jon Jarl came to Jorvik, he brought some fine horse with him. During the storm, one of his stallion and a mare ran away to the forest. That pair of horses became the ancestors of the breed that is today called the Jorvik Warmblood. The Jorvik Warmbloods are known of their calm temperament and easy nature, which makes them well-known as a perfect horse for the beginners.
Variations
Edit
The player may choose between fifteen coat colors and nine mane colors, which can give a total of 135 different variations of the horse.
The Jorvik Warmblood is the only horse breed which the player must own, and it's impossible to acquire another one or sell the one already owned.
Players often call Jorvik Warmblood a starter horse, since it is the first horse they get.
The Jorvik Warmblood and all the horses sharing its model were updated during the Wednesday update 2017-07-12.
Ad blocker interference detected!
Wikia is a free-to-use site that makes money from advertising. We have a modified experience for viewers using ad blockers

Wikia is not accessible if you've made further modifications. Remove the custom ad blocker rule(s) and the page will load as expected.