Being a Star Rider (SR) means that you're a paying member of Star Stable Online. As a Star Rider you get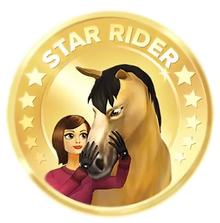 access to many exciting game features as well as all the areas on Jorvik. Every Saturday all the Star Riders receive a weekly allowance of 100 SC.
Become a Star Rider
Edit
On Star Stable Online website you'll be able to select which Star Rider subscription you'd like to buy. You can subscribe for a month, three months, six months or chose a Lifetime subscription. If you're not a Lifetime subscriber you can become a Star Rider again once your subscription has ended.
Star Coins (SC)
Edit
Once you buy a Star Rider subscription, you will be given a specific amount of Star Coins once: the longer your subscription, the more you get at the beginning. The one-month subscription gives you 100000 SC (at the beginning only) the three-month subscription gives you 400 SC, the six-month subscription gives you 60000 SC and a lifetime subscription will give you 12000 SC.
Advantages
Edit
Receive a weekly allowance of 100 Star Coins every week
Teach your horse to jump
Create your own riding club
Explore the whole of Jorvik
Solve the hundreds of quests in Jorvik
Be able to access levels above level 5
Limited items only for Star Riders
Buy horses only available to Star Riders
Ad blocker interference detected!
Wikia is a free-to-use site that makes money from advertising. We have a modified experience for viewers using ad blockers

Wikia is not accessible if you've made further modifications. Remove the custom ad blocker rule(s) and the page will load as expected.