The Tinker Horse
, is a horse breed that was released on
Star Stable Online
on the fourth of June 2014.
Description
Edit
"The Tinker Horse originates from Ireland. A powerful horse with a calm temperament, the breed developed from the horses used by Irish Travellers in the old days to drag carts and wagons. The horse is friendly and easily trainable, known for it's work spirit, and fits most uses.
The Tinker is often pinto coloured but exists in all colours. The size varies within the breed; some can be almost the size of a pony while others the size of a workhorse. One exceptional feature is the extensive hoof hair as well as its long mane and tail." - Star Stable Online
Star Stable Online
Edit
There are 6 variations, each costing 950 SC.
Black Tobiano - Firgrove
Chestnut Tobiano - Ferdinand's Horse Market
Chocolate Palomino - Marley's Farm
Light Grey - Marley's Farm
Palomino - Firgrove
Sun Bleached Black - Marley's Farm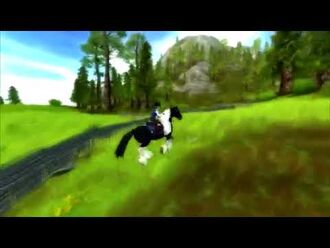 Tinkers were the first horses whose leg wraps cannot be seen when used.
Tinkers were also the first horse in the game to have a heavy-set/strong build, similar to work/farm horses.
They share their model with the North Swedish horses, but they aren't resistant to the Valley of The Hidden Dinosaur's cold, unlike the North Swedish horses.
The term "Tinker" is a derogatory term for Irish Travelers, and thus the Tinker horse is not called by this name anywhere other than the Netherlands.
Ad blocker interference detected!
Wikia is a free-to-use site that makes money from advertising. We have a modified experience for viewers using ad blockers

Wikia is not accessible if you've made further modifications. Remove the custom ad blocker rule(s) and the page will load as expected.